Rest in Power, Ruth Bader Ginsburg
Paying homage to one of our champions of equity and human rights, the broke billionaire, and how we can overcome a crime against humanity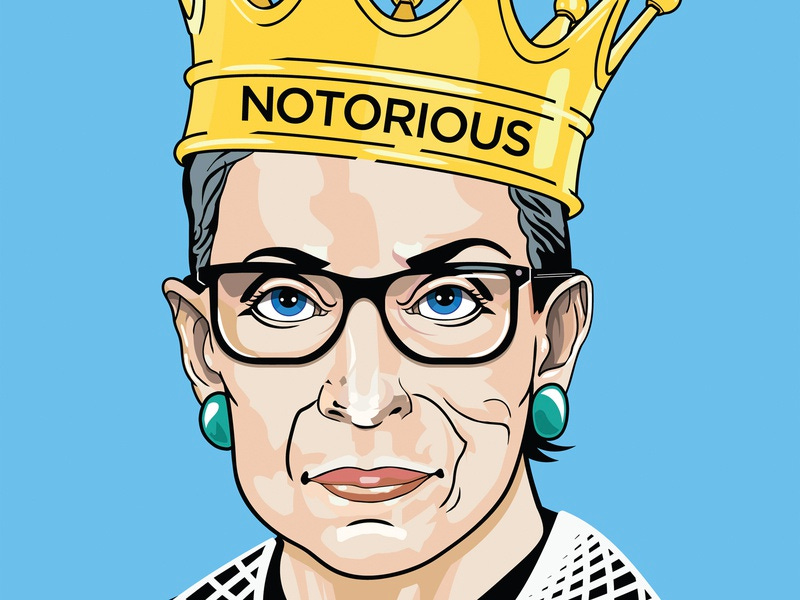 (Illustration by Andrew Lassetter)
Hi friend,
It is with extreme sadness that I dedicate this email to Supreme Court Justice Ruth Bader Ginsburg who passed away from pancreatic cancer yesterday. This hits hard, especially for the LGBTQ+ community. Ginsberg has been a champion of same-sex partnerships, anti-discrimination, and liberation for many marginalized communities.
She has done so much with her time:
Came from a low-income, working-class family in Brooklyn to being the second woman appointed to the supreme court.

After graduating first in her class at Cornell, she went to Harvard Law as one of eight women in a class of more than 500 law students. Ginsburg would later become the first female member of the Harvard Law Review.

After transferring to Columbia Law, she once again finished first in her class and later became their first female tenured law professor.

Throughout her life, she has been a staunch supporter of gender equity, writing many landmark decisions to grant women the same and equal rights as their male counterparts. In 1999 she won the American Bar Association's Thurgood Marshall Award for her contributions to gender equality and civil rights.

In 2015, she was a part of the ruling of Obergefell v. Hodges, making same-sex partnerships legal in all 50 states. Up until the vote, she had officiated same-sex partnerships and challenged arguments in the early proceedings of the case.

While Trump has been our president, she continued to defend the importance of a free press and an independent judiciary.
Ginsburg has inspired me in so many ways and her passing is not only heartbreaking but extremely grave given the current political climate that we are in.
Now more than ever, our votes will be so critical in determining our future this coming November. Make sure to register and check the voting deadlines. If you are opting for an absentee ballot, note the absentee ballot deadlines.
If you have family members who don't vote, it's time to have these difficult conversations. We must all exercise our right to vote before it is gone, like many other places in the world.
At least, we can do this for Ginsburg.
Rest in Power Supreme Court Justice Ruth Bader Ginsburg, 1933 - 2020.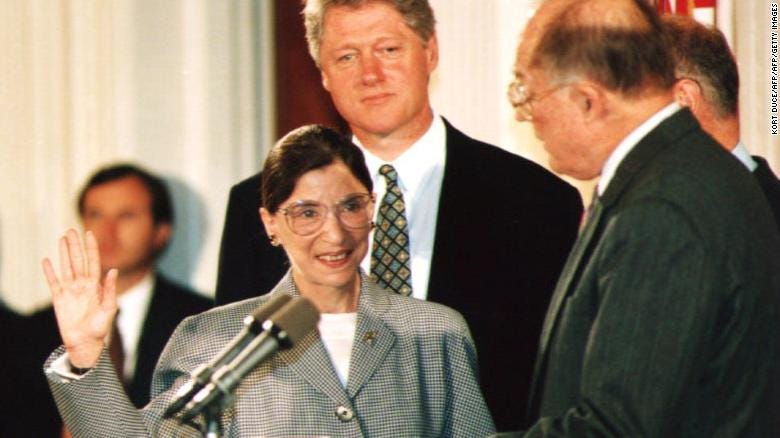 ---
More notorious RBG
Documentary of Ginsburg's life on Amazon Prime (Also on Youtube, Google, and Hulu)
Photo highlights from her 27-year long career as Supreme Court Justice
A heart-wrenching obituary by NPR's Nina Totenberg: A 5-Decade-Long Friendship That Began With A Phone Call
The broke billionaire
The man who amassed a fortune selling luxury goods to tourists, and later launched private equity powerhouse General Atlantic, lives in an apartment in San Francisco that has the austerity of a freshman dorm room. When I visited a few years ago, inkjet-printed photos of friends and family hung from the walls over a plain, wooden table. On the table sat a small Lucite plaque that read:  'Congratulations to Chuck Feeney for $8 billion of philanthropic giving.'
An enlightening read about the billionaire that inspired Bill Gates and Warren Buffet in their philanthropy. Forbes: The Billionaire Who Wanted To Die Broke . . . Is Now Officially Broke
A crime against humanity
Two Myanmar soldiers confess about the genocide in Rohingya. NY Times: 'Kill All You See': In a First, Myanmar Soldiers Tell of Rohingya Slaughter
Humans are capable of atrocities given the right influence. The truth is, each and every one of these soldiers was once an innocent baby, born only with love for the world. While I am not here to excuse these violent actions, if we want more love and compassion in the world, we must also show up with more love and compassion ourselves.
There is no magical fountain of love our enemies can drink from. The only love they can get in this world comes from people like you and me. If we can radically include more love in the way we react, especially with those we struggle to see eye-to-eye with, there will be an inevitable shift towards a kinder world with less violence, fighting, greed, and anger.
It has to start somewhere. It must start with us.
How can you show up with more love today?

As always, thanks for reading!
P.S. If you enjoyed this, share or sign up here: mindfulmoments.substack.com
Anything else? You can always hit "reply" to email me directly. 💌
Have a beautiful day!
Metta (loving-kindness),
Steven
Yellow Glitter Podcast | IG | YT | FB | TW | StevenWakabayashi.com